Permanent anti-static table mat

Permanent anti-static table mat is a new type of anti-static product just lanched, with high requirements for China's military, aerospace and other units. It has a high technical content and has overturned the traditional anti-static table mat products. And won the national new material invention patent.

Its mechanism is a new way to discharge static electricity through metal carbon nano ions, which melt and intersect with the resin under high temperature extrusion, and form a strip-shaped conductive loop inside the material; it changes the traditional products that rely on active cations to migrate out of the product surface. Combined with air humidity to discharge static electricity.

This new type of permanent antistatic table mat is not affected by temperature and humidity, thereby ensuring that the product can effectively and stably discharge static electricity in a low humidity environment.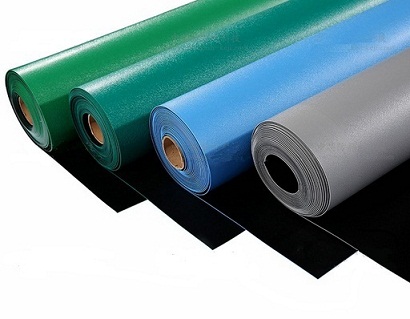 Technical Specifications

1) Material: anti-static material and synthetic rubber
2) Thickness: 2mm
3) Size: width: 0.8, 1.0, 1.2, 1.3m; length: 10m
4) Color: green, gray, light blue, royal blue, black and etc
5) Surface: glossy or dull
6) Top layer surface resistance: ≤10e6 Ohm

7) Bottom layer surface resistance: ≤10e5 Ohm
8) Static voltage attenuation period (5000–500V): <0.2s